Carlington is a residential neighbourhood in the city of Ottawa, Ontario, Canada.  The red area in the map to the right shows the boundaries of the area covered by the Carlington Community Association.  Details of these boundaries are:
North:  Carling Avenue from Fisher Avenue to Clyde Avenue.
West:  Straight south along the line of Clyde Avenue, from Carling Avenue to the NCC bicycle path.
South:  The NCC bicycle path eastwards from the line of Clyde Avenue to Merivale Road.
East:  Fisher Avenue, from Carling Avenue to the NCC bicycle path by Trent Avenue
It is known for having many "war homes" or "veteran homes", built for returning soldiers after World War II. Many street names reflect this military history.
Another landmark is the Carlington Hill. Formerly it had a ski tow lift; now it is an approved City of Ottawa sledding site.
Carlington is quite a large community in the Ottawa region; the number of amenities we have reflects that.  See Resources, Activities & Programs for more details.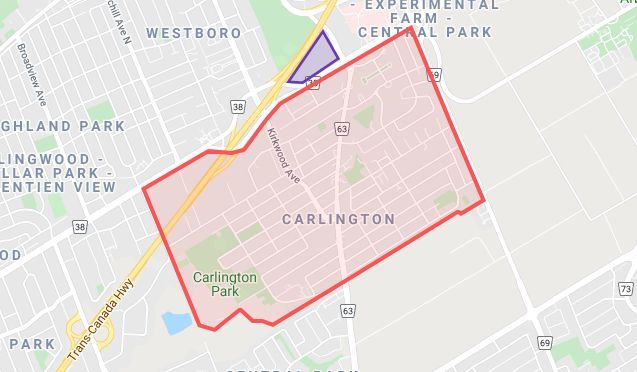 CCA boundaries (in red)
(Click here to see a larger map.)
Note: As of October 2022, at the time of the Ottawa municipal elections, the area shown on this map in blue (Westgate) was added to River Ward 16, and to the area the CCA covers.

Carlington North Veterans' Housing Character Area
In May 2022, a part of Carlington was designated as a Character Area under the Ontario Heritage Act. The associated heritage strategy ensures that the historical significance of the area is recognized and remembered. To find out more, please see: Carlington North Veterans Housing Character Area.
Our logo:
The Carlington Community Association's logo is the CCA's visual identity. It was selected as a graphic representation of Carlington's diversity, the area's vibrant history and its co-operative spirit. Carlington is truly a community of communities; distinct but working together for a better future.