The article below is based on a press release issued by the Shepherds of Good Hope announcing the installment of the Carlington Eras Mural, dated September 5, 2018.
Shepherds of Good Hope and Carlington Community Association team up to brighten building.
The Shepherds of Good Hope (SGH) and the Carlington Community Association (CCA) are pleased to announce the installment of a stunning new mural that will reside on one of SGH's supportive housing facilities, The Oaks.
This mural commemorates the history of the traditional Algonquin Lands of the Carlington area.  At the top of the mural is a dream catcher with an eagle in the center, painted by Indigenous artist and Oaks' resident, Marcel Mowatt.  The mural goes on to depict agriculture, including crop and dairy farming, train tracks and the logging industry.  At the bottom of the mural, you will see veteran housing — one of the first veteran communities built after the war. This housing still sits along the old train yards.
CCA helped facilitate this project and brought together a number of community partners. Maggie Buttrum, a Carlington resident, came up with the concept of a mural to depict Carlington history. Another resident, Michael Kostiuk, was the project's historian. Youth from the Carlington community also came together to help paint the mural. Claudia Salguero, the artist/facilitator helped the youth paint the mural and brought all the historical and future components of the Carlington Eras Mural together.
A recognition event took place on September 13, 2018, at The Oaks, located at 1057 Merivale Road, at which  you could meet Marcel Mowatt and the amazing community partners. It included light refreshments and celebratory remarks.
"We are thrilled to work together with our community partners to build a more inclusive community. This mural is also reflective of Carlington today – a very diverse community of residents who care about their community's history and future," said Deirdre Freiheit, President and Chief Executive Officer of Shepherds of Good Hope.
"We are very excited to recognize the hard work done by our community partners to brighten up our community with this commemorative piece. We would also like to send our gratitude to Michael Kostiuk, the Carlington Historian, Crime Prevention Ottawa for the grant which covered the costs of the project, Kitchissippi Church who gave us the space to paint the panels, The Oaks (Shepherds of Good Hope) who agreed to let us install the mural and the Carlington youth who painted the mural," said Charity Bartlett, President of the CCA.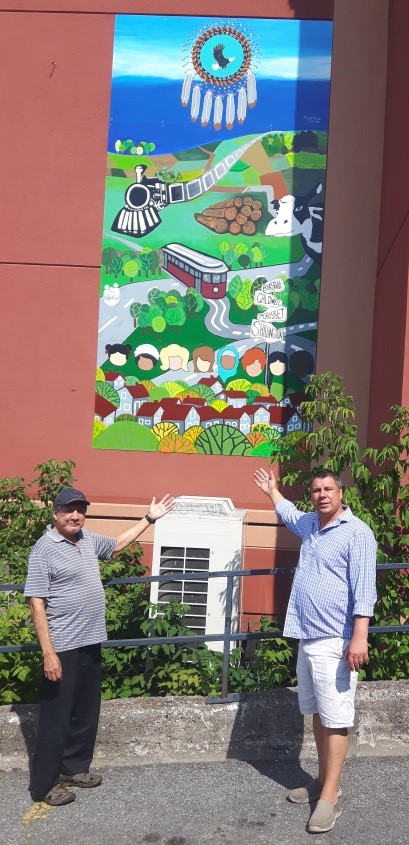 Left: Marcel Mowatt.  Right: Ray Macquatt, Program Manager, The Oaks.