Development and Transportation Projects
Civic Hospital: New Campus
Project Type: New construction, 5 years of planning and 5 years of construction.
Location: 930 Carling Ave. & 520 Preston St.
Application Number: D07-12-22-0168 (Site Plan Control)
Status:   Parking garage (Phase 1) is under construction, Plans for Phases 3 and 4 of 5 have been submitted and are awaiting approval.
Last updated: June 2023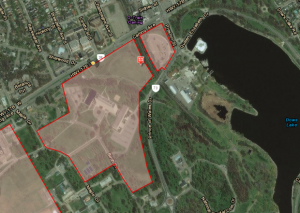 Details:  The new campus of the Civic Hospital is located on the land to the west of Dow's Lake, between Carling Avenue and Prince of Wales Drive. In the spring of 2018, this site was rezoned to Major Institutional Zone.
For an overview of the project, please see the Main Page of their website.
To keep up-to-date, visit their News page, which includes Checkpoint Newsletters.
Update from City Councillor: In October 2021, City Council approved the master site plan. In February 2022, the City approved the site plan for Phase 1, the parking garage. Construction is to start spring/summer 2022.  A working group of local community associations, including the CCA, will be struck to review strategies to prevent hospital traffic from infiltrating neighbourhoods. There is also interest in shifting from private vehicles to transit and active transportation.
The new hospital will be built entirely in River Ward. Riley worked with three other Councillors to move multiple successful motions during the master site plan phase to address issues heard from the communities, including the creation of a traffic-impact working group of local community associations, additional efforts for tree retention, on-site OC Transpo bus service, bicycle access, relocation of Queensway signage for the new Hospital and reduction of on-site surface parking. Riley also received unanimous Council support to urge the federal government to introduce legislation to preserve the Experimental Farm. Ottawa Centre MP Yasir Naqvi made this part of his successful campaign.
Stay up-to-date on local development and transportation issues: