Development and Transportation Projects
861 Clyde Avenue (old Neilson Dairy)
Project Type: Demolition and new construction
Application Number:  Zoning By-law Amendment D02-02-20-0122
Status:   Comment period in progress.
Last Updated: May 2021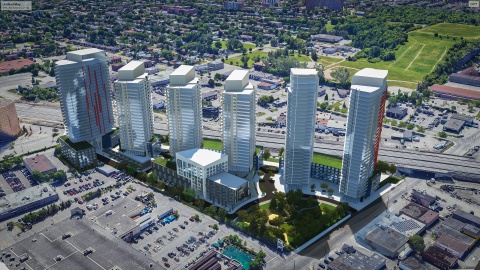 Details:  Note: While this property is currently in Kitchissippi Ward, it will become part of Carlington (River Ward) at the next municipal election.
The applicant is proposing 6 high-rise buildings, one mid-rise building, street oriented townhomes, a raised interior courtyard and a park space. The high-rise buildings, varying from twenty-five to thirty storeys, will sit on six-storey podiums,  and are proposed to be oriented closest to the Queensway to act as a barrier to the north. The mid-rise building that bounds the north side of the site varies from four to eight storeys, is proposed to have landscaped roofs and loft style units. The interior courtyard is proposed to be entranced by an amphitheatre segment overlooking the park and oriented to the afternoon sun. A pathway link south of the project is proposed to enhance cycling and pedestrian circulation travelling east-west.  A private street is proposed to connect both the Churchill and Clyde entrance through the site with minimal surface parking.
There was an Open House for this project given by Jeff Lieper, City Councillor of Kitchissippi Ward, on November 30, 2020, which can be viewed on YouTube.
As this project currently has 1,740 units planned, there is concern about increased traffic in the area, which the City is assessing. As well, the park area will be given to the City.
As of May 2021, no formal application has been submitted to the City.
Stay up-to-date on local development and transportation issues: