The new online tool allows eligible residents to sign up DAILY for a COVID-19 Vaccine Wait List to receive a first or second dose appointment. As appointments open up, Ottawa Public Health contacts the resident by text, email or phone.
The tool resets at 11:59 p.m. daily, so interested residents should register after that time EACH DAY.
All appointments are for unclaimed doses, so they could become available at any time of the day. You will be asked to arrive for your appointment by a particular time. You can choose to accept the appointment or not.
What kind of vaccines?
Community clinics are administering the mRNA vaccines (Moderna and Pfizer), and residents will be informed on-site which one they are receiving. Since interchanging vaccines is safe and effective, the priority is to receive two doses of any vaccine to complete the series and be fully protected.
Where are the Community Clinics?
Pick your preferred area of the city: West, East or Central. However, the clinics with last-minute openings each day may vary, depending on their vaccine availability.
Canadian Tire Ctr, 1000 Palladium Dr
Canterbury Recreation Complex, 2185 Arch St
Eva James Memorial Community Centre, 65 Stonehaven Drive
Horticulture Building, 1525 Princess Patricia Way
Minto Sports Complex (uOttawa), 801 King Edward Avenue
Nepean Sportsplex, 1701 Woodroffe Ave
Ottawa City Hall, 110 Laurier Ave W
Queensway Carleton Hospital – 3045 Baseline Rd
Ruddy Family YMCA-YWCA – 265 Centrum Boulevard
St-Laurent Complex – 525 Côté Street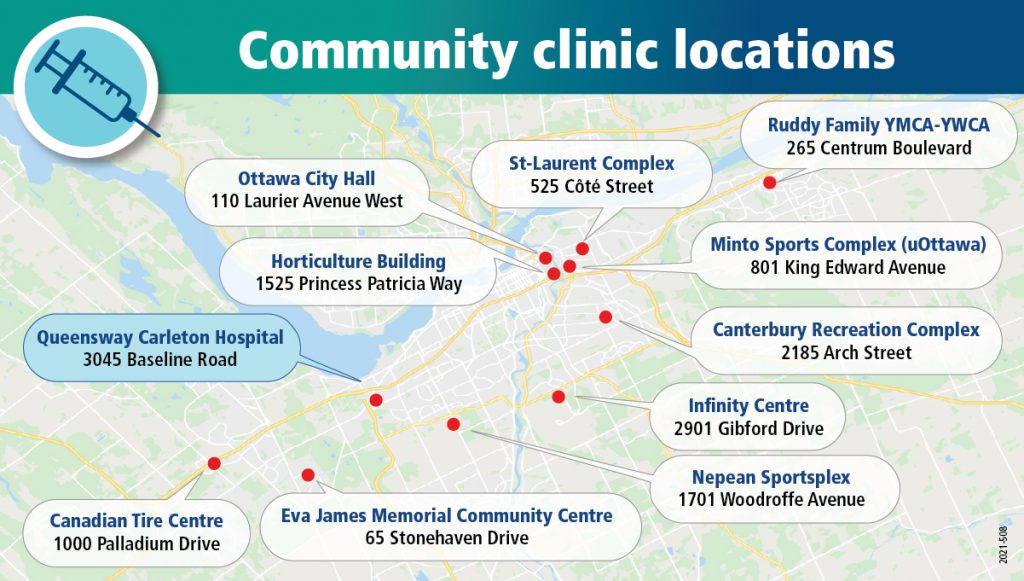 Who is eligible?
All Ottawa residents age 12 or older are eligible to receive a first dose. You are eligible for a second dose of the vaccine if you:
Individuals who already have an appointment for a later date are eligible for the wait list. Those who secure an appointment through the wait-list will be asked to cancel the future appointment upon arrival at the clinic. If you need to cancel or reschedule your appointment for any other reason, visit the provincial booking system or use this tool.