Following the success of the recent Scavenger Hunt, we are happy to announce the up-coming Outdoor Community Treasure Hunt.
Families of all shapes and sizes are welcome to participate, even families with only one person!
Eligible submissions will be entered for a draw for gift certificates for amazing local businesses in Carlington.
Runs for TWO WEEKS, from Saturday, July 18, 2020, to Monday, August 3. It's outdoors, but please remember to maintain social distancing.
How the Treasure Hunt works:
Go to the start point for a Quadrant (listed below) and find the laminated instructions. "Collect" the letters (usually in the top right-hand corner of the instructions – but not always!) and solve the clue in order to find out where the next stop point is.
At each stop point, collect one or more letters and continue solving the clues to get to the next point. (There are 6 to 11 stop points for each Treasure Hunt.)
At the end, unscramble the letters to discover the secret word.
To be eligible for the draw, submit at least ONE Quadrant's secret word before 11:59 pm on Monday, August 3, 2020.
Submit your answers via our online Treasure Hunt form.
Alternatively, via email to: activities@carlingtoncommunity.org
Or drop off your answers at 1499 Larose Avenue.
Remember to include your home address as well as the number/s of your Quadrant.
Quadrant Map and Start Points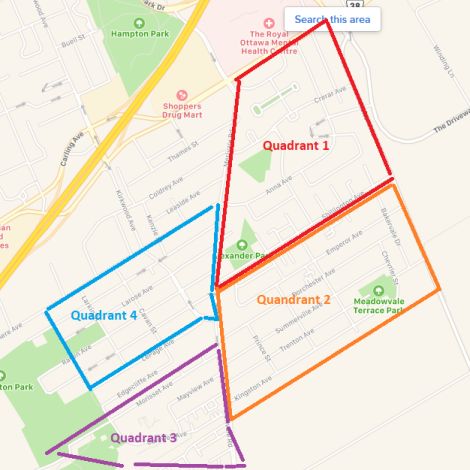 Quadrant 1: King Confectionary
Quadrant 2: Meadowvale Terrace Park
Quadrant 3: Greeko's Souvlaki and Pizza
Quadrant 4: Milano's Pizza
To print a copy of the map:
Right-click on map image and choose "View image":.
Hold down the "Control" key and type "P" to print.
Additional Information:
You are NOT limited to just one Quadrant – You can submit the secret word for all 4 Quandrants!
Paper and pencil might be useful. If you're participating with children, you may want to pack a towel, bathing suit, water, sunscreen and a snack.
At each location you'll find a laminated copy of the clues. Please leave them there — but take a photo of them so you have all the clues handy as you proceed through the Treasure Hunt.
Note: if you're really stuck and can't solve a clue, send an email to activities@carlingtoncommunity.org for a hint!
Scavenger Hunt Sponsors: