City Councillor Riley Brockington recently hosted a Public Information Session for the road, sewer and watermain renewal project for parts of Larkin Street, Lepage Avenue and Larose Avenue. The reason for the renewal project is that aged infrastructure is in poor condition and has to be replaced.
At the session, residents could review the drawings for the infrastructure project and discuss concerns with City of Ottawa and project staff. The streets will be re-built to be exactly as they were before, except that Larkin Street will have a sidewalk along all its length on the east side of the street.
Construction is tentatively planned to begin in spring of 2020 with anticipated completion by the end of 2020 (depending on the weather).
These streets will NOT be fully closed during the work; excavations will start at one end of a street, and extend for 2-3 houses. The work will move along the street, with the earlier excavation getting filled in as the work progresses down the street.
The limits of the project are:
Larkin Street between Lepage Avenue and Laperriere Avenue
Lepage Avenue between Cavan Street and Larkin Street, and
Larose Avenue between McBride Street and Larkin Street.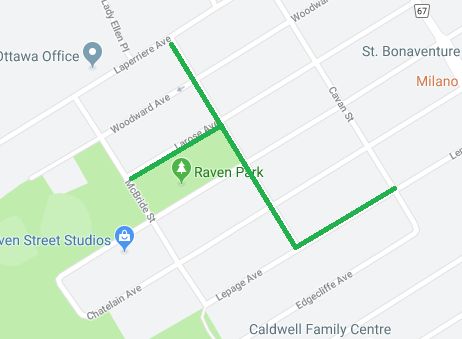 The project impacts:
Sanitary sewers in Larkin Street, Lepage Avenue and Larose Avenue,
Storm sewers in Lepage Avenue and Larose Avenue,
Watermains in Lepage Avenue and in Larose Avenue.