Yesterday there was a violent incident on Anna Ave that resulted in the tragic death of a Carlington resident and neighbour.
The CCA would like to express condolences on behalf of the community to the family and friends of the woman who lost her life, as well as to all those affected by this incident and its aftermath, including those living nearby.
Please do not hesitate to contact the CCA with any questions, comments or concerns:  president@carlingtoncommunity.org
Thank you,
CCA Board of Directors
The following crisis support resources are available to any resident of Carlington.
Carlington Community Health Centre, 900 Merivale Road
Caldwell Family Centre, Unit xxxx, 1111 Medford Road
Distress Centre of Ottawa-Carleton, Distress Line: 613.236.xxxx: Offers anonymous, confidential 24-hour service
Medical Health Clinic: 613.723.xxxx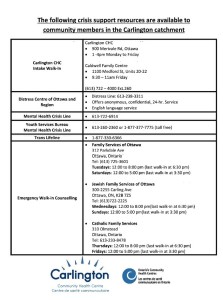 Link to information about crisis support resources to Carlington community members